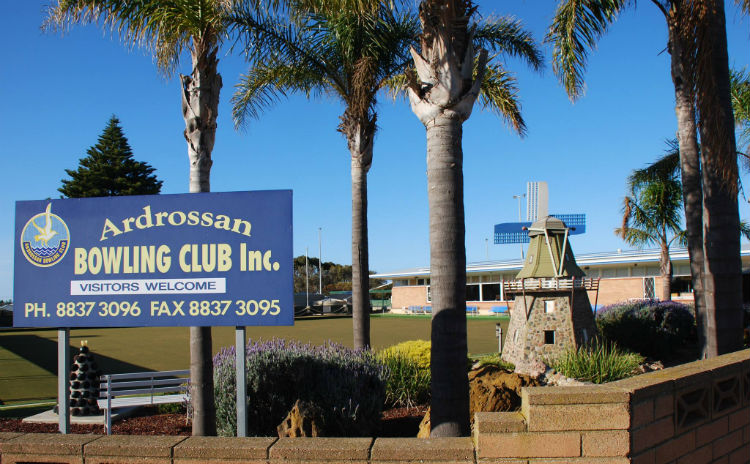 The Ardrossan Bowling Club has two Ladies and four Men's Pennant Sides playing in the respective Yorke Peninsula Bowling Association against clubs from the Northern area of the Peninsula:-
We also field two sides of 6 players (Triples) in the Mid-Week Southern Yorke Peninsula Association.
Note: With the use of  Ladies we are able to field the four Men's sides.
Alford                                                  Moonta
Arthurton                                            Paskeville
Bute                                                    Pt Broughton
Kadina                                                Wallaroo
Maitland                                              Wallaroo Mines
The town of Ardossan is situated on the East Coast of the Peninsula (Or the Western Shores of The Gulf St Vincent, 85Km Northwest of Adelaide, but 150Km's from Adelaide by road) approximately  mid-way down it's length, other towns south of Ardrossan that field bowling sides play in the Southern Yorke Peninsula Bowling Association:-
Edithburgh                                            Pt Vincent
Curramulka                                           Stansbury
Minlaton                                                Warooka
Pt Victoria                                             Yorketown
For the history of Ardrossan refer to the following web sites:-
    The club has three Tiftdwarf Greens, "A" Green is situated at the front of the club as shown in the above photo. The "B" & "C" Greens are at the back of the club (Southern side), refer to to the Photo Gallery
The Ardrossan Bowling Club is a sporting body in the Yorke Peninsula Town of Ardrossan in South Australia, it is managed by its members to provide the facilities for those people with a common interest and in particular Lawn Bowls.
Our mission is to maintain and improve those facilities to a standard which enables people of all ages to participate in Pennant, Night and Social Bowls along with providing a relaxing meeting place.
We encourage and provide support for other Community Organisations to use the facilities for other activities that aids them to meet their goals.